NOAA's Sea Grant and Disaster Preparedness Programs help address disaster impacts and recovery with three new projects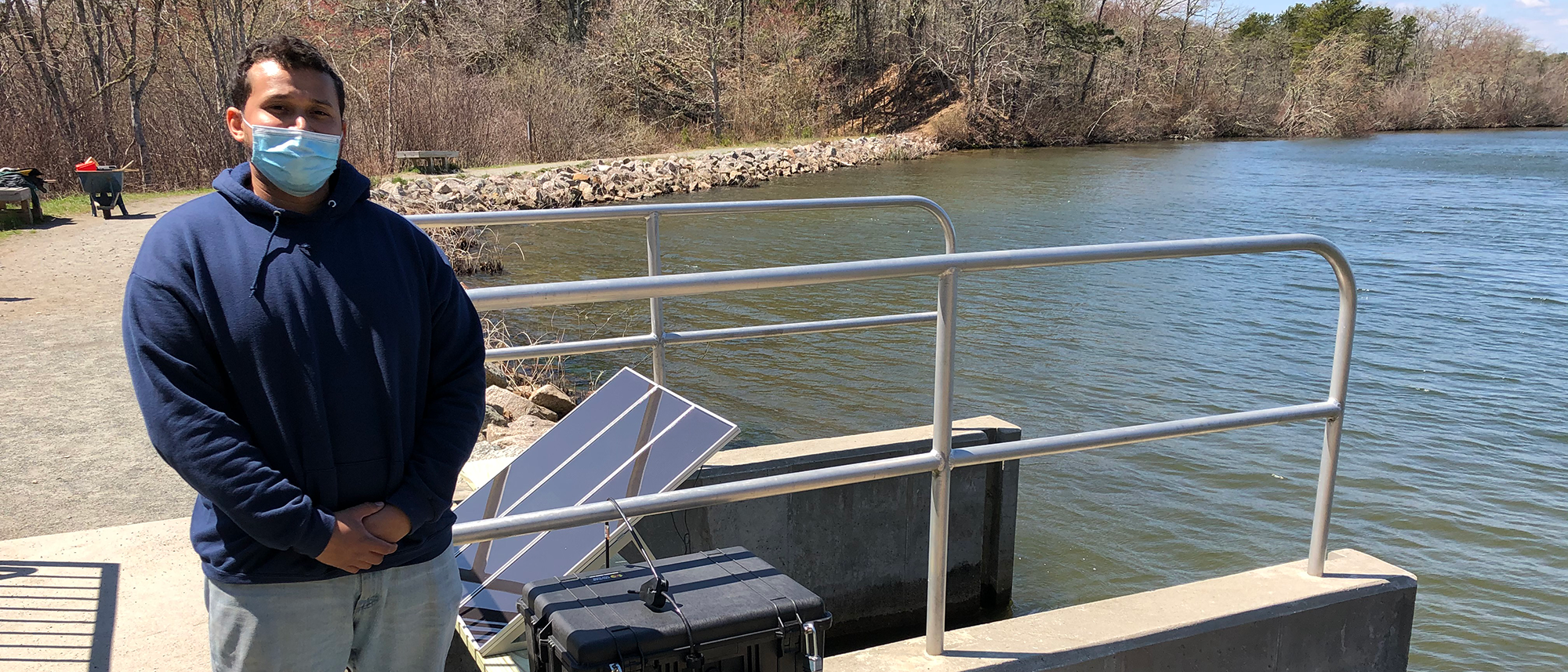 Dale Oakley Jr., Assistant Director of Natural Resources, Mashpee Wampanoag Tribe, is a key personnel on MIT Sea Grant's disaster preparedness project. Oakley stands next to a camera system installed as part of a river herring monitoring project with MIT Sea Grant. (Image credit: Rob Vincent | MIT Sea Grant)
⁠—June 23, 2022 | By Hallee Meltzer, National Sea Grant Office
Hurricanes. Flood events. Oil spills. When disaster strikes, communities come together to respond. NOAA Sea Grant and NOAA's Disaster Preparedness Program are partnering to help communities respond to and recover from these occurrences through three projects that strengthen local preparedness measures.
"While natural or human-caused disasters are not always preventable, we can work together to increase preparedness for such events," stated National Sea Grant College Program director Jonathan Pennock. "The projects announced today will enable coastal and Great Lakes communities to lessen disaster impacts and reach post-disaster recovery more quickly."
The selected projects, which are led by Hawai'i Sea Grant, MIT Sea Grant and Wisconsin Sea Grant, will be awarded a total of $540,000 in federal funds over two years.
Hawai'i Sea Grant will work with government and community stakeholders to develop a pre-disaster recovery plan for commercial, residential and infrastructure reconstruction in the county of Kaua`i as it relates to catastrophic disasters, such as hurricanes and tsunamis, and chronic climate change hazards, like sea level rise. Project activities include providing outreach to encourage collaboration between government, non-government and community organizations and working with vulnerable and underserved communities to develop post-disaster redevelopment scenarios that increase resilience for the next disaster.
MIT Sea Grant will work with the Mashpee Wampanoag Tribe to develop a disaster response plan and training program to prepare for a potential oil spill, with specific attention on protecting shellfish aquaculture operations. Aquaculture is integral to the Mashpee Wampanoag Tribe and a plan for swift and effective response to an oil spill is necessary for mitigating cultural and financial impacts. The resulting products will also be developed for extension to other aquaculture-reliant communities.
Wisconsin Sea Grant will engage disaster-prone communities on the Great Lakes coast in preparedness planning for flooding from multiple sources, such as heavy downpours and riverine and coastal flooding. Preparedness plans and outreach will focus on best practices for evacuation and improving uptake of emergency communications. Additionally, this project will facilitate the Extreme Event game, a natural disaster simulation developed by the National Academy of Sciences, with coastal communities that are vulnerable to flood events.
"The Disaster Preparedness Program is focused on preparing NOAA's National Ocean Service, partners, and coastal communities to effectively prepare for, respond to, and recover from all hazards," says Kate Wheelock, chief of the Disaster Preparedness Program. "This partnership with Sea Grant programs allows us to consolidate our resources to reduce the effects of disasters on vulnerable communities and maximize our impact where it is needed most."
https://seagrant.mit.edu/wp-content/uploads/2022/06/600600p1660EDNmainimg-IMG_2467.jpeg
450
600
Lily Keyes
https://seagrant.mit.edu/wp-content/uploads/2023/05/MITSG_logo_website.png
Lily Keyes
2022-06-23 13:00:13
2022-06-23 13:00:54
NOAA's Sea Grant and Disaster Preparedness Programs help address disaster impacts and recovery with three new projects