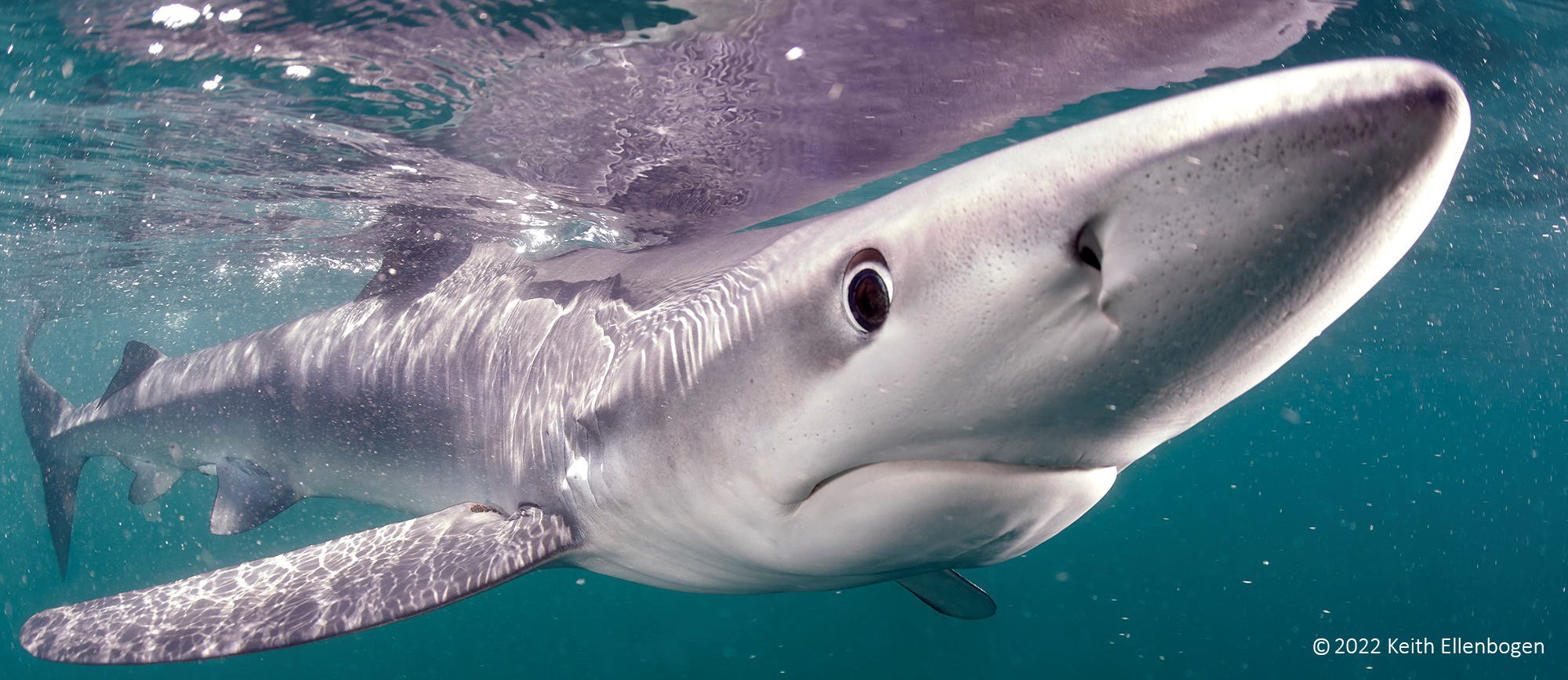 BOSTON, MA (June 2022) – Acclaimed underwater photographer Keith Ellenbogen brings the rich and surprising biodiversity of marine life off the Massachusetts coast—including great white sharks, humpback whales, sea turtles, and North Atlantic right whales—up close for visitors to see in his new outdoor photography exhibition, "Space to Sea: A Photographic Journey into Stellwagen Bank National Marine Sanctuary," opening June 22 on the New England Aquarium's Central Wharf.
>> Read the WCVB article: Underwater photography exhibit now open at NEAQ in Boston
>> Visit June 22 – November 1, 2022 (MIT Events Calendar)
Opening day talk: June 22, 2022 from 6:30 PM – 7:30 PM at Simons Theatre, 1 Central Wharf, Boston, MA
To mark the sanctuary's 30th anniversary, 50 of Ellenbogen's large-scale photographs will wrap the Aquarium's Simons Theatre and exterior of the Aquarium's main building alongside the Harborwalk. "Space to Sea" showcases high-resolution images created with traditional cameras and some of the latest technology at MIT. Intimate portraits of underwater marine life offer an unusual glimpse into our local waters, home to more than 600 documented species that live in the federally-protected National Oceanic and Atmospheric Administration's Stellwagen Bank National Marine Sanctuary, located 25 miles off the coast of Boston between Cape Ann and Cape Cod and the surrounding area. Species include seals, sharks, sea turtles, whales, lobsters, ocean plankton, migratory seabirds, and numerous species of fish, such as Atlantic cod, striped bass, and herring. This vast underwater habitat contributes greatly to the state's commercial and recreational economy and the overall health of Massachusetts' coastal waters. The New England Aquarium has been a long-term education partner with Stellwagen Bank and operates whale watch excursions to the sanctuary from April to November in partnership with Boston Harbor City Cruises.
Some of Ellenbogen's most stunning photographic moments include freediving with a 17-foot, 3,000-pound great white shark; descending into a giant school of Atlantic mackerel; and diving to a depth of 100 feet to to photograph a torpedo ray, an ambush predator that is capable of emitting electricity to stun or kill its prey. The exhibition also explores the microscopic world of alien-like planktonic creatures that support the abundance of New England's marine life. The immense numbers of ocean drifting plankton are further visualized at a planetary scale by processing NASA Landsat 8 raw satellite data into a series of artistic images. The centerpiece of the exhibition is a life-size photo of a breaching humpback whale, standing nearly 50 feet tall across the windows of the Simons Theatre.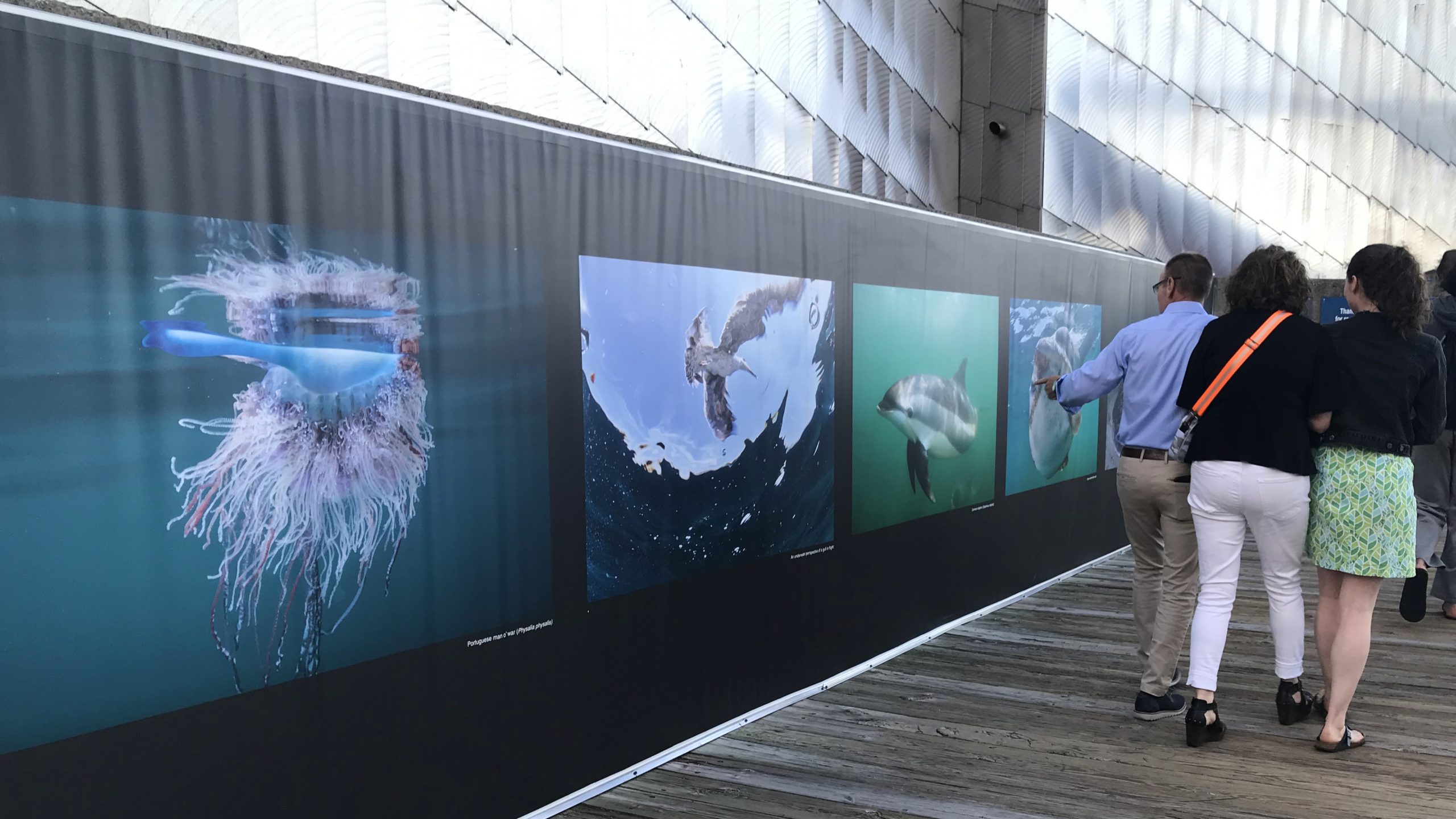 A family walks by four photographs featuring a Bluebottle jellyfish, sea bird, dolphin, and mola mola, on NEAQ's Central Wharf at the opening of Keith Ellenbogen's Space to Sea exhibit. Photo by Lily Keyes
"This is a remarkable opportunity to have an outdoor public art exhibition at the Aquarium that encapsulates the extraordinary marine life living just miles off the coast of Boston," said Ellenbogen. "It's a moment to celebrate 30 years of Stellwagen Bank's vital role in marine conservation as well as a very unique and intimate way for visitors to engage with the very wildlife that may otherwise seem elusive out at sea."
Ellenbogen is a celebrated underwater photographer and the recipient of an Ernest F. Hollings Ocean Awareness Award for his work showcasing the dynamic marine wildlife off the coast of Massachusetts and within Stellwagen Bank National Marine Sanctuary in honor of the sanctuary's 30th anniversary. He is an Associate Professor of Photography at SUNY/Fashion Institute of Technology; visiting artist at Massachusetts Institute of Technology / MIT Sea Grant; senior fellow, International League of Conservation Photographers; fellow, The Explorers Club; and is affiliated with the New England Aquarium's Anderson Cabot Center for Ocean Life. He holds an MFA from Parsons School for Design and currently resides in Brooklyn, New York but grew up in Newton, MA.
"This collaboration is extraordinarily important to us as we celebrate the 30th anniversary of the designation of Stellwagen Bank National Marine Sanctuary," said the sanctuary's Superintendent Pete DeCola. "People from Massachusetts travel round the world to see wildlife, but many are not aware that a short ocean safari can bring them to an area of rich biodiversity here in our own backyard. It's fitting that this exhibit of Keith's amazing work is located at the New England Aquarium in downtown Boston, the skyline of which is visible on a clear day from the western edge of New England's only national marine sanctuary."
"Space to Sea" is free, open to the public, and made possible through a grant from the National Marine Sanctuary Foundation. The exhibit is a collaboration of the National Oceanic and Atmospheric Administration's Stellwagen Bank National Marine Sanctuary; the MIT Sea Grant Program at the Massachusetts Institute of Technology; the National Marine Sanctuary Foundation; and the New England Aquarium.
"Over the last four years, we have watched Keith's breadth of work evolve and reveal the diversity of our local marine life. This public photography exhibition is a powerful example of how art and science can inspire ocean awareness and stewardship."

– Michael Triantafyllou, MIT Sea Grant Director; Henry L. and Grace Doherty Professor in Ocean Science and Engineering; Professor of Mechanical and Ocean Engineering
"Not many of us are able to get up close to the magnificent marine life that lives underwater in Stellwagen Bank," said New England Aquarium President and CEO Vikki N. Spruill. "We are thrilled to be able to bring Keith's stunning photography to Central Wharf for the first time. His work will help engage the public to learn and be inspired by the beautiful imagery while also gaining a deeper understanding of these vitally important marine protected areas."
MEDIA CONTACTS
New England Aquarium: Diana Brown McCloy, diana@teakmedia.com; 978-697-9414
MIT Sea Grant: Lily Keyes, keyes@mit.edu; 617-253-3461

https://seagrant.mit.edu/wp-content/uploads/2022/06/BlueShark_KeithEllenbogen-1.png
867
2000
Lily Keyes
https://seagrant.mit.edu/wp-content/uploads/2023/05/MITSG_logo_website.png
Lily Keyes
2022-06-13 13:43:03
2022-10-27 16:07:38
June 22 - Nov 1 on NEAQ's Central Wharf - Space to Sea: A Photographic Journey into Stellwagen Bank National Marine Sanctuary