MIT SEA GRANT SEMINARS
Click to expand:
August 2, 2019 | Sensors for Understanding Natural Flows and Guiding Underwater Vehicles
MIT SEA GRANT & CENTER FOR OCEAN ENGINEERING SEMINAR
Professor Maarja Kruusmaa
Centre for Biorobotics, Tallinn University of Technology, Estonia
Center for Autonomous Marine Operations and Systems, Norwegian University of Science and Technology, Norway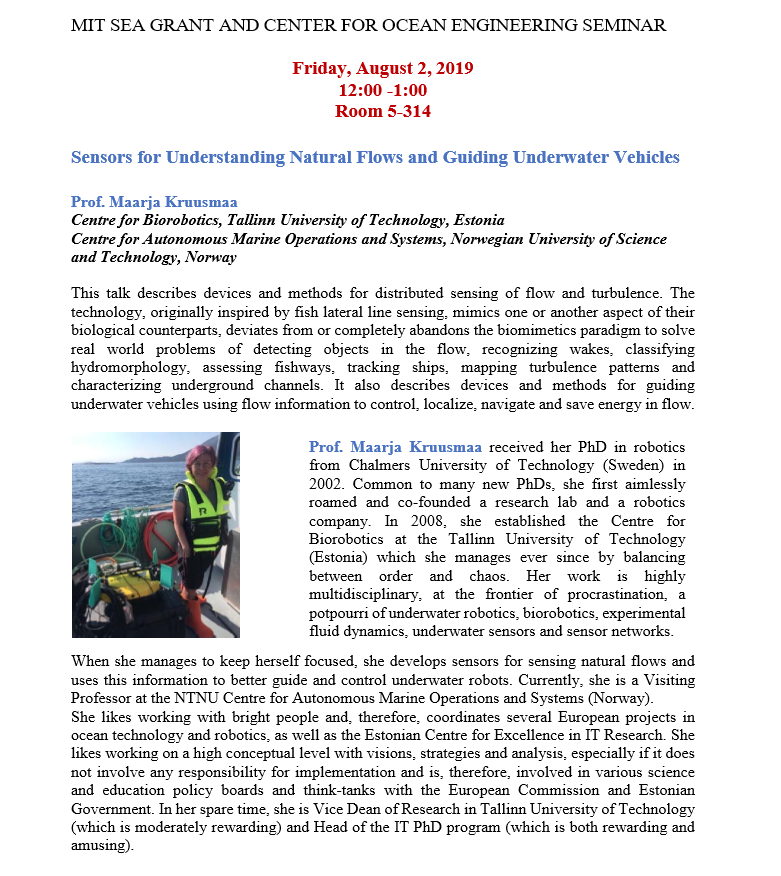 July 22, 2019 | Modeling the Dynamics of Kelp Aquaculture Farms
Longhuan Zhu (PhD Candidate, University of Maine)
Advisors: Dr. Kimberly Huguenard (University of Maine) and Dr. David W. Fredriksson (U.S. Naval Academy)
World aquaculture production has doubled in the past decade and is expected to surpass the capture production this year. Consequently, aquaculture is becoming the dominant source for seafood and other sea products. The rapid expansion of estuarine and nearshore aquaculture will significantly influence the estuarine and coastal ecology, environment and communities. In this presentation, the efforts of researchers from the University of Maine and a network of collaborators are working toward building a Sustainable and Ecological Aquaculture NETwork (SEANET) in Maine will be introduced. Particularly, a 3D computational model for the dynamics of longline aquaculture systems will be demonstrated. This model is being implemented into a computational fluid dynamics (CFD) platform OpenFOAM to model the influence of aquaculture farms on the flow. The lab experiments supported by Nepf Lab (MIT) will also be presented to show the potential of kelp farms on wave attenuation.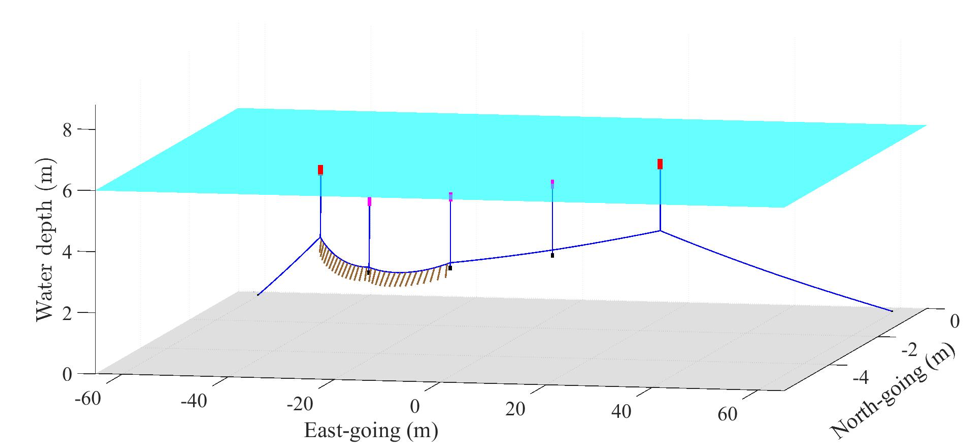 June 19, 2019 | Graph Embedding Method for Network Data Analysis
Mengjia Xu, PhD
Postdoctoral Associate, MIT McGovern Institute and MGH
In real world applications, networks can be used as a powerful language for describing and modeling complex systems, e.g. social networks, economic networks, biomedical networks, internet networks, etc. In the past few decades, machine learning based graph representation has become an active research area since it can provide insights into how to make good use of the information hidden in graphs and facilitate more accurate and efficient downstream graph analysis tasks (e.g., community detection or link prediction). I will first give an overview of the latest graph embedding methods, and then I will specifically introduce the principles of Gaussian embedding technique with uncertainty quantification. Finally, I will illustrate a real-world functional brain network application using the Gaussian embedding method.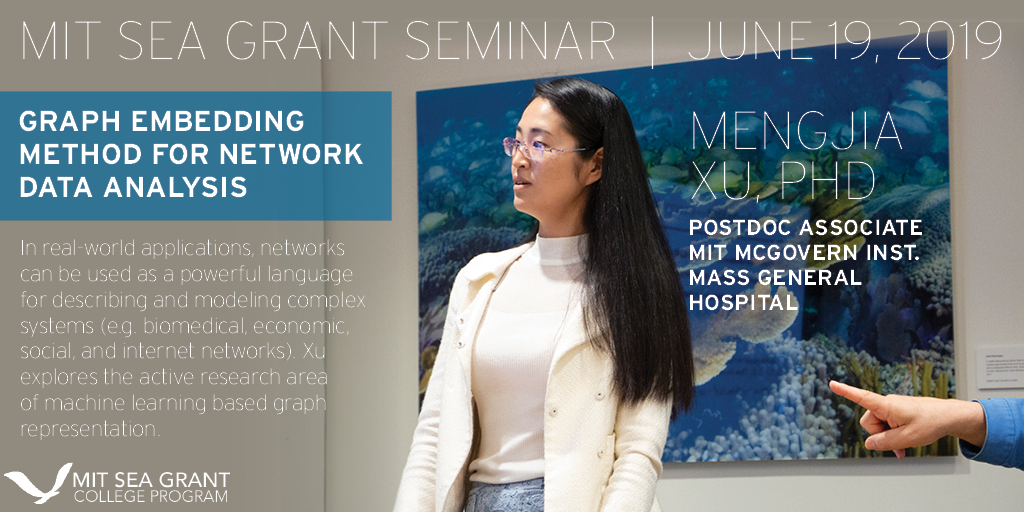 Mengjia Xu is currently a postdoctoral associate at the MIT McGovern Institute and Massachusetts General Hospital. Before joining MGH in 2018, she was a postdoc of Beijing International Center for Mathematical Research at Peking University. She received her PhD degree in Computer Science from Northeastern University of China in 2017. During her PhD, she worked at Brown University for two years as visiting PhD student in the Division of Applied Mathematics. Previously, she worked as a full-time software engineer intern at Neusoft for two years. Her main research interests are to develop data-driven machine learning methods for medical image data analysis in diverse real-world applications.
Current MIT Sea Grant projects in machine learning and modeling:
CALENDAR UPDATE COMING SOON
July

2019

Mon
Tue
Wed
Thu
Fri
Sat
Sun
Sign up for news and updates from MIT Sea Grant! View our most recent newsletter here.
BLUE LOBSTER BOWL
March 3, 2019  |  Annual Event
MIT Sea Grant sponsors this fast-paced, one-day ocean science quiz bowl, the regional competition of the National Ocean Sciences Bowl. Rounding its 22nd year, the Blue Lobster Bowl includes over 120 students from as many as 24 Massachusetts high schools. More about the Blue Lobster Bowl >>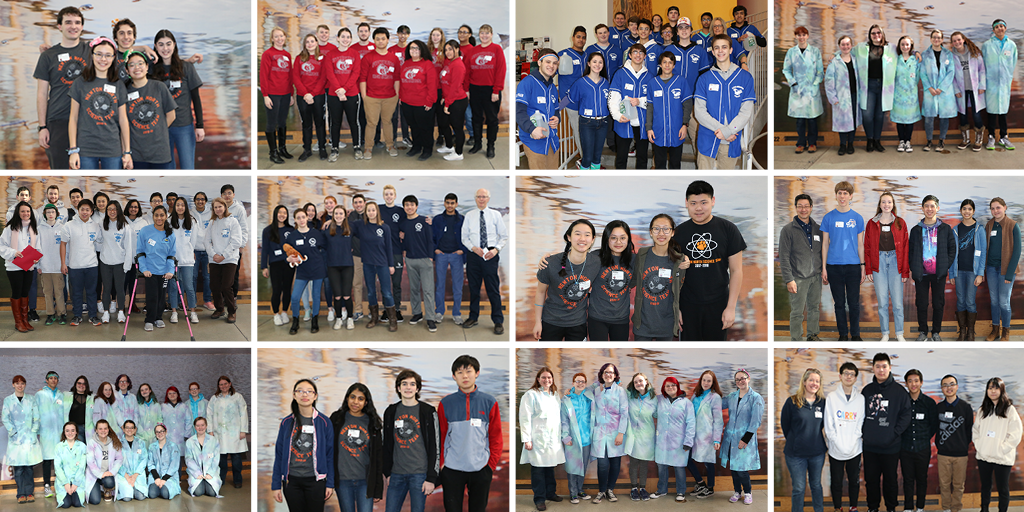 CAMBRIDGE SCIENCE FESTIVAL
April 13, 2019  |  Annual Event
The Science Carnival and Robot Zoo are annual family-friendly community science events. MIT Sea Grant hosts educational and engineering activities including the Sea Perch ROV tank, robotic fish pool, and live touch tanks with coastal marine ecologists. More about our engagement at the Cambridge Science Festival >>