THIS SATURDAY 2/29/2020 AT MIT
Watch stage one (round robin) 10:20am-12:45pm and 1:30-3pm and stage two (single elimination) 3:30-5:45pm in MIT buildings 16, 56, 66, and 32 (final round). Complete printed programs with teams' matches will be available outside Kirsch Auditorium (32-123) at 32 Vassar St. beginning at 10am for the general public. Also that morning, we will share a link to the electronic scoreboard so those who cannot attend can still follow the competition.
We're grateful to People Making a Difference (PMD), MathWorks, and The Harvard Coop for supporting the 2020 Blue Lobster Bowl regional high school ocean sciences competition of the National Ocean Sciences Bowl.
THE 23RD ANNUAL BLUE LOBSTER BOWL
A Regional Competition of the National Ocean Sciences Bowl
PRIMARY COMPETITION DAY: Saturday, February 29, 2020
Snow postponement day: Sunday, March 1, 2020
Every winter, MIT Sea Grant sponsors a fast-paced, one-day ocean science competition. Rounding its 22nd year, the Blue Lobster Bowl includes over 120 students from as many as 24 Massachusetts high schools. The National Ocean Sciences Bowl (NOSB) was created in 1998 in honor of the International Year of the Ocean and, since its inception, the competition has grown to include 300 schools and over 2,000 students annually.
Topics include the biology, chemistry, geology, physics, history, and economics of the ocean, as well as ocean-related current events. The winning team competes in the national finals in Washington, D.C. in April.
Information about competing or volunteering in the 23rd Annual Blue Lobster Bowl below.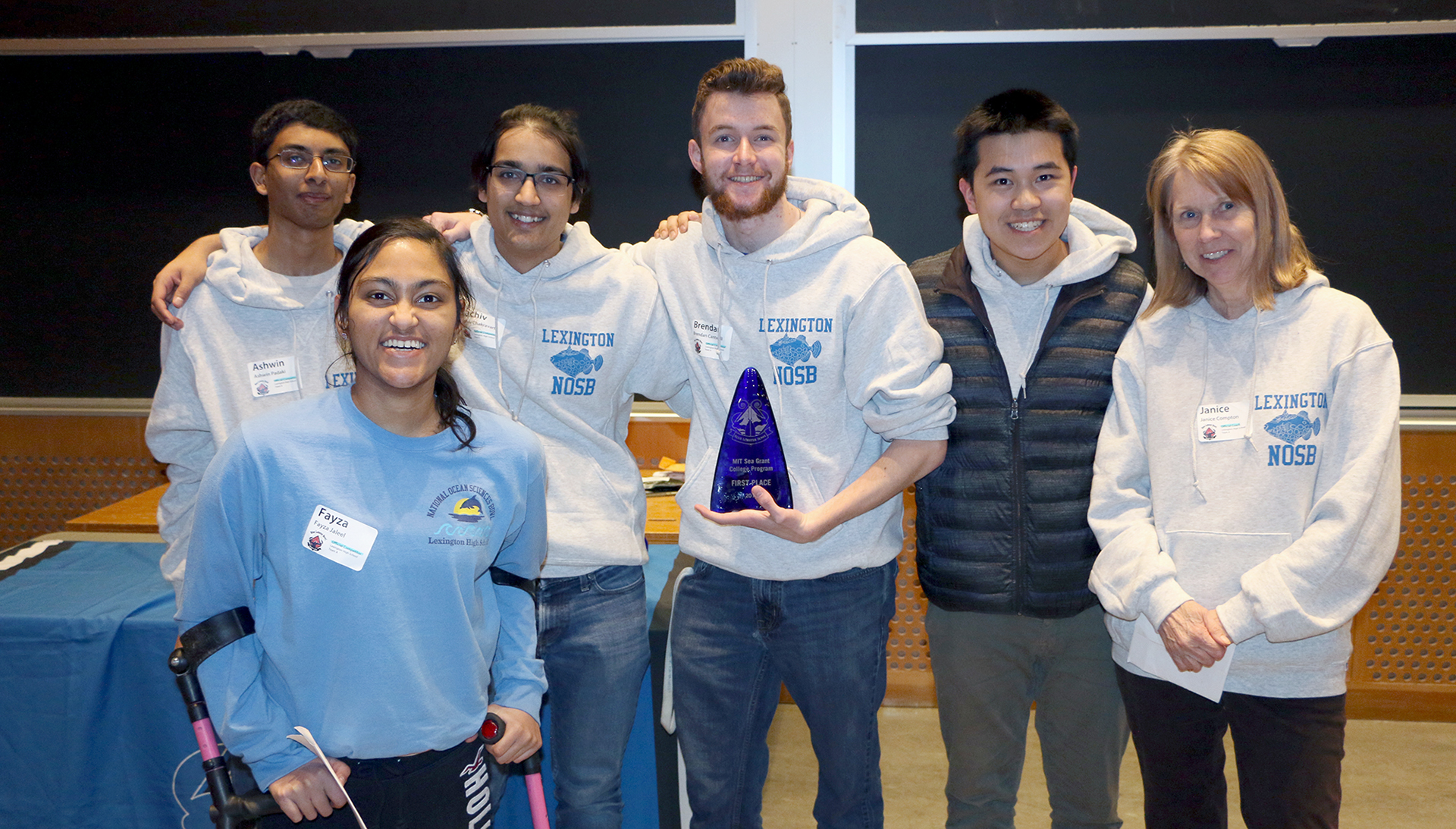 OUR 2019 TEAMS
Congratulations
1ST PLACE | Lexington High School A
2ND PLACE | Newton North High School A
3RD PLACE | Lincoln-Sudbury Regional High School A
4 Acton-Boxborough Regional High School A
5 Acton-Boxborough Regional High School B
6 Newton South High School
7 Lexington High School B
8 Newton North High School B
9 Newton North High School C
10 Bristol County Agricultural High School A
11 Fitchburg High School A
12 Lincoln-Sudbury Regional High School B
13 Acton-Boxborough Regional High School C
14 Fitchburg High School B
15 Bristol County Agricultural High School B
NC (Non-Competitive first time) Cape Cod Academy
McDowell Science Challenge Winner:
Fitchburg High School A
VOLUNTEER
Volunteers are fundamental in running the quiz bowl. We seek ocean-lovers, STEM role models, and those with ocean-related careers. Keep score or time, run answers, judge science or rules, moderate, grade written responses, organize the science room, or update the electronic scoreboard.
Apply to volunteer by February 4, 2020. Volunteer trainings will take place in February 2020.
WANT TO START A TEAM AND COMPETE?
The 2020 Team Intent Forms and $50 registration fee (or Financial Need Waiver Application) were due to MIT Sea Grant by Wednesday, December 4, 2019.
CONTACT US
To learn more about the Blue Lobster Bowl, please contact us at: blb@mit.edu.