THE 24th ANNUAL BLUE LOBSTER BOWL
A Regional Competition of the National Ocean Sciences Bowl
PRIMARY COMPETITION DAYS: March 6-7, 2021 (Virtual)
Every winter, MIT Sea Grant sponsors a fast-paced, one-day ocean science competition. Rounding its 24th year, the Blue Lobster Bowl includes over 120 students from as many as 24 Massachusetts high schools. The National Ocean Sciences Bowl (NOSB) was created in 1998 in honor of the International Year of the Ocean and, since its inception, the competition has grown to include 300 schools and over 2,000 students annually.
Topics include ocean biology, chemistry, geology, physics, history, and economics, as well as ocean-related current events. The winning team competes in the national finals virtually this year, in May 2021.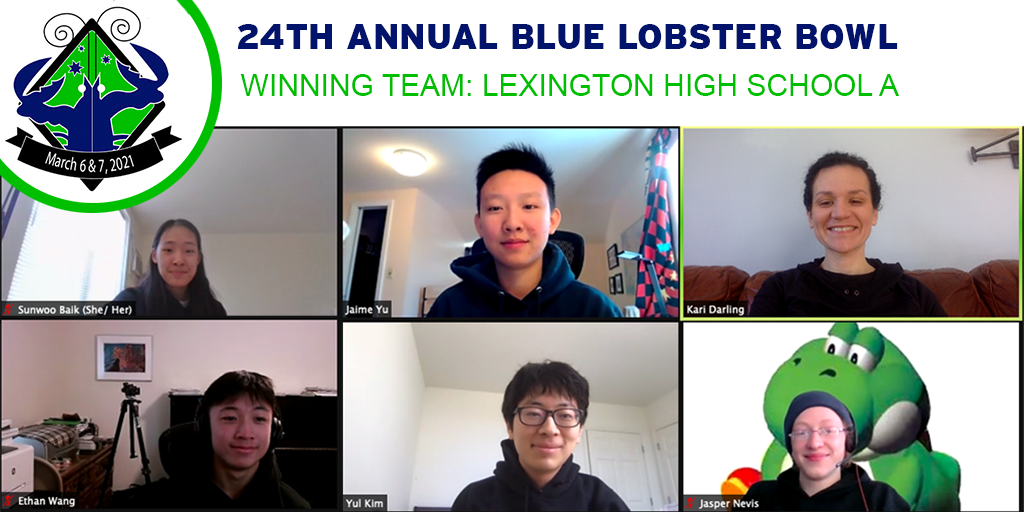 Winning Lexington High School Team A: SunWoo Baik (Captain), Jamie Yu, Kari Darling (Coach), Ethan Wang, Yul Kim, and Jasper Nevis
OUR 2021 TEAMS
Congratulations
1ST PLACE | Lexington High School A
2ND PLACE | Lexington High School B
3RD PLACE | Lincoln-Sudbury A
McDowell Science Challenge
WINNER | Chelmsford High School B
RUNNER-UP | Lincoln-Sudbury C
4  Newton North B
5  Newton North A
6  Lincoln-Sudbury B
7  Newton South B
8  Chelmsford A
9  Acton-Boxborough
10 Lincoln-Sudbury C
11 Newton South A
12 Chelmsford B
13 Fitchburg B
14 Fitchburg A
Thank you to the many dedicated volunteers who officiated and helped bring the ocean science bowl virtual! We had volunteers from Asia to Maine, plus 14 other states – one of the benefits this year's virtual competition. We particularly appreciate the People Making a Difference volunteers, team coaches, and NOSB alumni.
VOLUNTEER
Volunteers are fundamental in running the quiz bowl. We seek ocean-lovers, STEM role models, and those with ocean-related careers. Keep score or time, judge science or rules, moderate, grade written responses, or update the electronic scoreboard.
Volunteer information for the 25th Annual Blue Lobster Bowl will be posted in December 2021.
WANT TO START A TEAM AND COMPETE?
Information for registering a team for the 25th Annual Blue Lobster Bowl will be posted here in November 2021.
CONTACT US
To learn more about the Blue Lobster Bowl, please contact us at: blb@mit.edu.