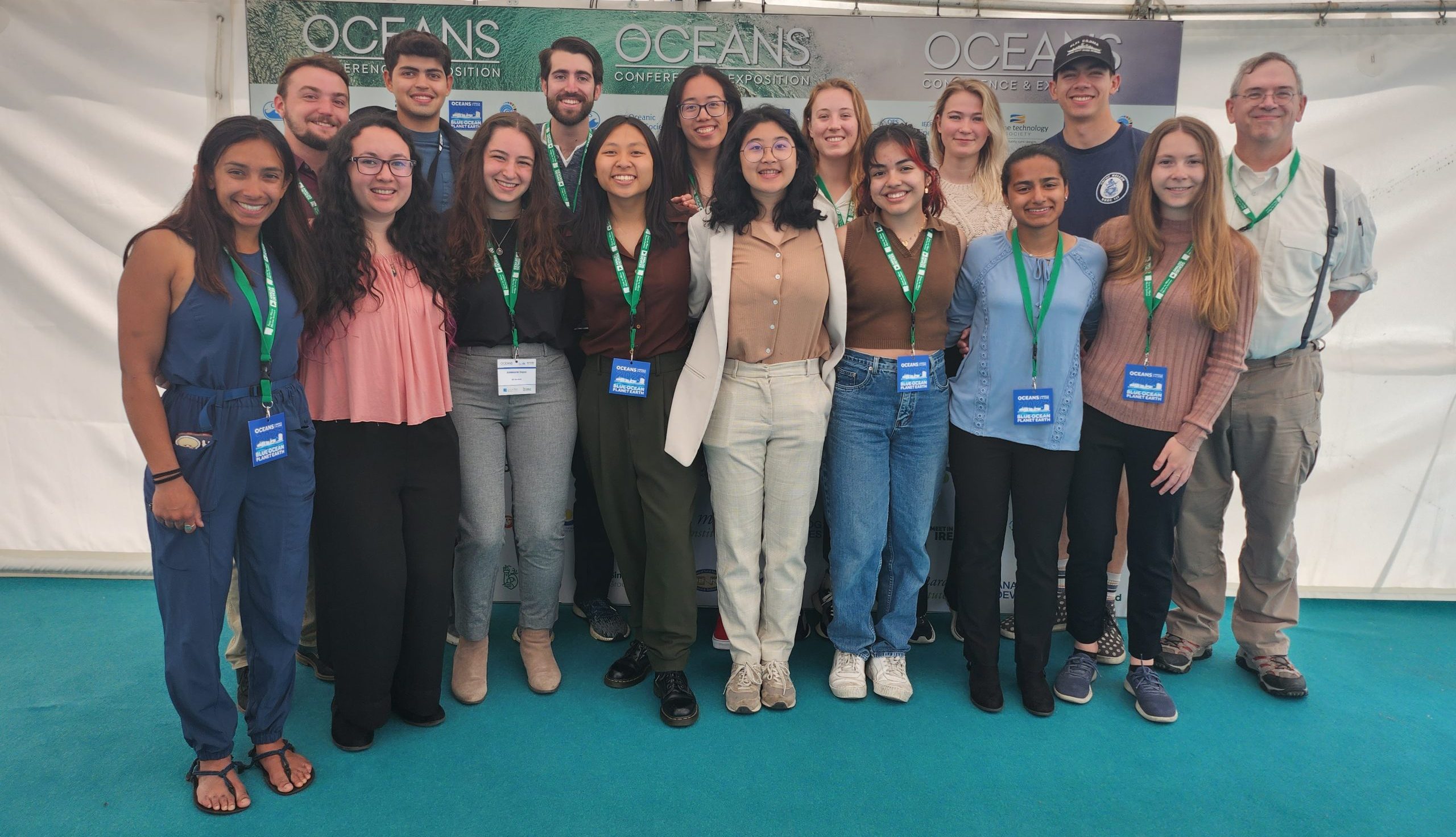 Pictured: MIT at the OCEANS Conference! Top: Joice Himawan, Daniel Klahn, Sebastián-Monsalvo, Ansel Garcia-Langley, Adrienne Lai, Emma Rutherford, Arianna Ilvonen, Kevin Bennett, Drew Bennett; Bottom: Suparnamaaya Prasad, Fiona Gillespie, Annemarie Dapoz, Audrey Chen, Jessica Lam, Valeria Gutierrez, Erin Menenzes, Isabel Alvarez
MIT Sea Grant Education Administrator Drew Bennett and over a dozen MIT students attended the 2023 OCEANS Conference June 5-8 in Limerick, Ireland. The conference brought together global marine technologists, engineers, lawyers, and other ocean advocates. The MIT students presented on their projects and research ranging from detecting microplastics using fluorescent staining, to designing autonomous vehicles for aquaculture and adapting marine soft robotics for K-12 education.
"It was eye-opening to see the wide variety of ocean robotics applications beyond the projects in MIT Sea Grant: from automated coral reef monitoring, to deep sea exploration. It was really encouraging to see that there are so many unsolved and interesting problems in the field." – Daniel Klahn (Electrical Engineering and Computer Science '23)
MIT student travel and participation in the conference was supported through generous donations from the Abkowitz family and George Rohr Foundation.
https://seagrant.mit.edu/wp-content/uploads/2023/06/2023-06-07-13.19.24-scaled-e1691511258163.jpg
1472
2560
Lily Keyes
https://seagrant.mit.edu/wp-content/uploads/2023/05/MITSG_logo_website.png
Lily Keyes
2023-06-10 12:03:38
2023-08-08 12:15:11
MIT Sea Grant Students Travel to Ireland for 2023 OCEANS Conference