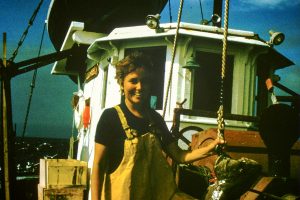 MIT Sea Grant helped launch the New Bedford Fishing Heritage Center by securing grant funding and designing exhibits to connect the local community in New Bedford with their thriving commercial fishing port.
Commercial fishing is a significant part of New Bedford's economy and cultural identity, yet because so much of the work takes place out of sight, this culture is largely unknown and often misunderstood by those outside the industry. Development of a Fishing Heritage Center helps preserve the history of local fishing practices and fishing communities, and provides a mechanism for outreach, education and promoting awareness in support of this important industry and its legacy.
MIT Sea Grant's Madeleine Hall-Arber served on the board of directors for the New Bedford Fishing Heritage Center (NBFHC). NBFHC opened its first major exhibit in June 2015. Hall-Arber was instrumental in the design of the first exhibit and in securing funding for social science research and outreach for the past two years.
NBFHC is a respected community asset. Hall-Arber also co-authored five successful funding proposals totally over $110,000 and will serve as a co-lead in their implementation. The NBFHC has hosted 9 exhibits, 3 festivals, 6 classes, 12 performances, 22 films, 30+ walking tours, 100+ oral histories recorded, 7,000+ images scanned. Participants include 1,500+ students and 10,000+ visitors annually. At its heart, the Center is a community effort that enables the fishing community to share its rich history and culture with school children, residents, and tourists. Special programs and research projects give the small physical space added impact. The oral histories recorded as part of the grants are being archived by the Library of Congress and NOAA Fisheries' Voices from the Fisheries.
https://seagrant.mit.edu/wp-content/uploads/misc/Madeleine-Hall-Arber-graduate-fishing-cod.jpg
2600
3900
Lily Keyes
https://seagrant.mit.edu/wp-content/uploads/2023/05/MITSG_logo_website.png
Lily Keyes
2019-03-06 20:57:35
2019-06-18 13:51:10
MIT Sea Grant helps integrate New Bedford's fishing heritage with the surrounding community