State, federal, and general resources for the seafood industry during the COVID-19 pandemic: 
NOAA SEA GRANT SURVEY
The National Sea Grant Office is reaching out to NOAA line offices, federal and state agencies, the aquaculture industry, and aquaculture scientists to complete this survey, based on the Sea Grant Association 10-Year Vision Document.
COVID-19 SURVEY
Aquaculture, aquaponics, or allied business:
Please consider participating in this Quarter 4 national survey in response to COVID-19. The Ohio State University and Virginia Tech have been collecting information about the effects of the pandemic on aquaculture farms and businesses. This effort, supported by the National Sea Grant Office and the National Marine Fisheries Service, has been repeated quarterly to capture evolving impacts.
This Amesbury, MA-based company believes in sustainable lobster fishing, and aims for prompt delivery all year round.
The National Sea Grant Law Center is also working to address questions that employees and employers might have as states start to lift stay-at-home orders. >>Quick Take Slides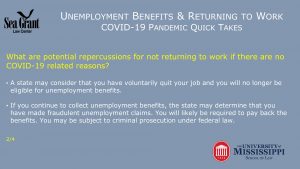 SEAFOOD 101: A Journey from Sea to Market to Table
The New England Fishery Management Council, NOAA Fisheries, and the Massachusetts Division of Marine Fisheries
NOAA FISHERIES: Recipe Cards
MA SEA FOOD: Availability by Species and Month
Commonwealth of Massachusetts, Executive Office of Energy and Environmental Affairs, Department of Fish and Game, Commissioner Mary B. Griffin, Division of Marine Fisheries
RESCUES: Responding to Emergencies at Sea and to Communities Under Extreme Stress
MIT Sea Grant, Fishing Partnership Support Services, Harvard T.H. Chan School of Public Health, Environmental & Occupational Medicine & Epidemiology Program