Remote Explorer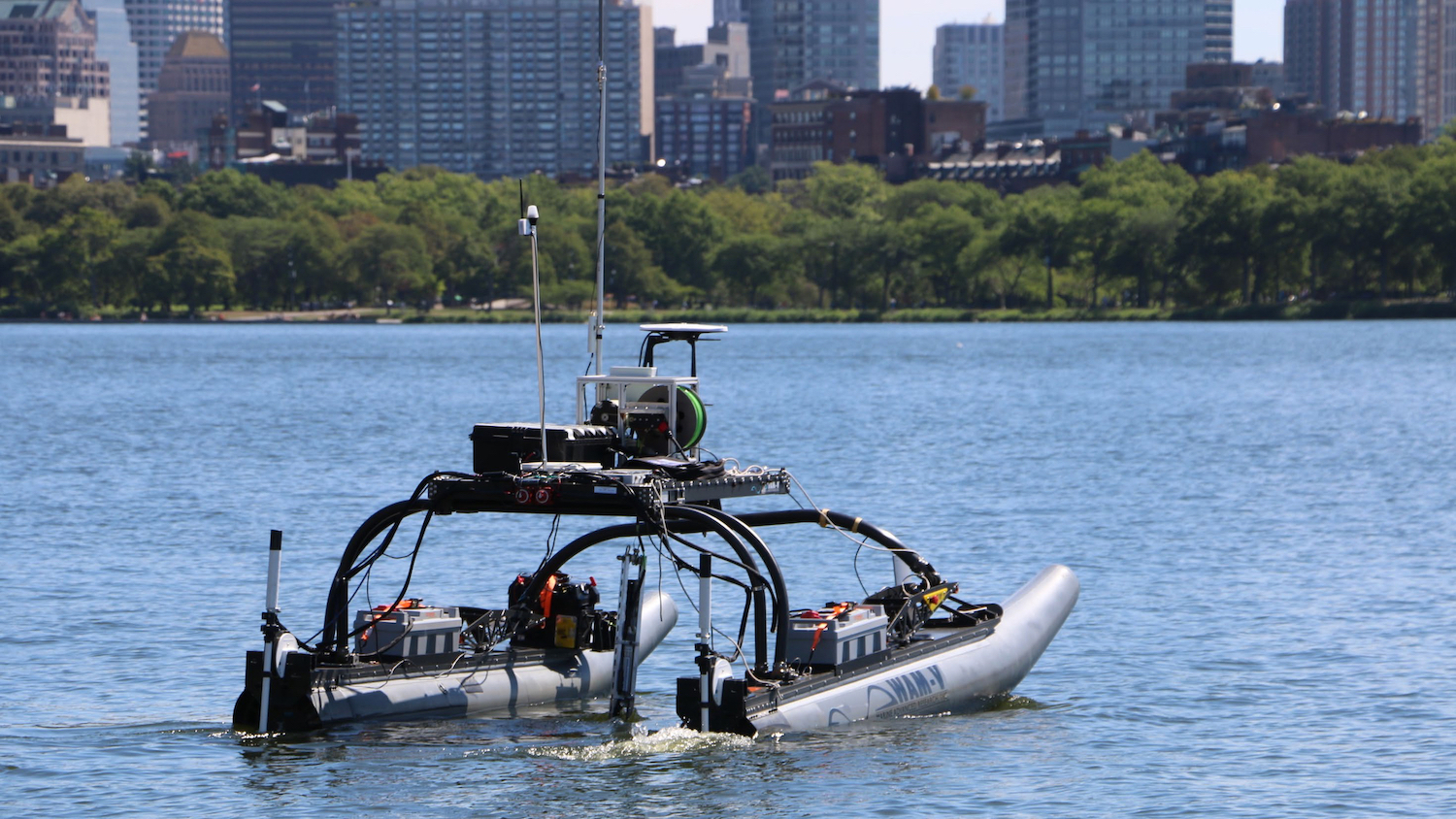 The Remote Explorer (REx) IV vessel was converted by the MIT Sea Grant AUV Lab to an autonomous ocean sampling platform in 2015 by adding a winch to deploy water column sampling sensors. Lab efforts focused on ocean sampling to determine sources of ocean acidification and to provide modeling data for the MIT Sea Grant Design Lab and other partners.
Autonomous navigation system development was added to this effort, with the goal of developing autonomous vehicles to perform measurements without human interaction, increasing the frequency of sampling and decreasing associated costs.
REx was used to support the research of several students in the Laboratory for Autonomous Marine Sensing Systems, and also provided a platform for an MIT PhD student to test an acoustic array in the Charles River. REx was also deployed to develop autonomy for the Lockheed-sponsored Boston Harbor RoboChallenge project, results of which will support maritime industry and port operations.
Through demonstrated collaborative behavior missions between REx and a Mercury Marine Boston Whaler vessel, the AUV Lab aims to advance recreational marine situational awareness by gathering data from multiple sensor platforms on REx: lidar, radar, vision, and IR, with initial experimentation on sensor fusion algorithms.
The AUV Lab has also focused on developing new techniques for providing underwater wireless data and power transfer. The technology will be used for recharging AUVs and sensors, and transferring data without docking the vehicles and devices.
This technology will greatly enhance the capabilities of autonomous marine operations, with specific applications for offshore aquaculture, which is a priority focus area for Congress, the Department of Commerce, NOAA, and the National Sea Grant Program.
Odyssey IV Class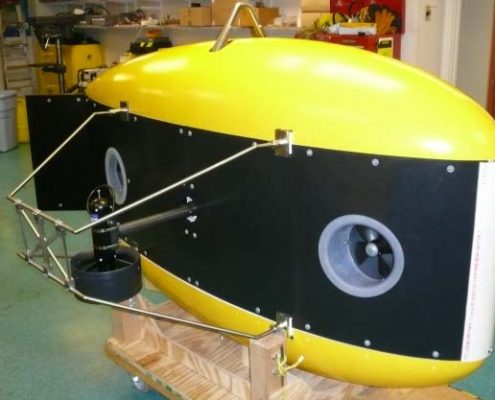 The Odyssey IV AUV is the result of a growing need for more capable, more maneuverable, more accessible AUVs. Odyssey IV is based on the MIT AUV Lab team's years of design and field experience. The smooth, faired shape is derived from the streamlined body of the successful Odyssey II class AUV, allowing energy-efficient high speed transits and quick missions to great depth. The vehicle's conservative size and weight make it deployable from small, less expensive boats, while still leaving room for a substantial payload. The AUV is passively stable at high speed, while the combination of two fixed cross-body thrusters and two rotating thrusters provides 4 DOF control for precise hovering capability. Payloads planned for this vehicle include: high resolution stereographic digital camera, Benthos C3D multibeam sonar, sample return devices, mass spectrometer, manipulator and buoyancy drive.
SPECIFICATIONS
Dry weight (+ payload): 25 kg
Wet weight: -1kg
Size (L*W*H):2.6m*1.5m*1.3m
Battery chemistry: lithium ion
Energy storage: 4.5Kwh
Payload weight: 20 kg wet weight
Payload volume: 200 liters
Propulsion: 4 x 1 HP Deep Sea Thrusters
Forward (surge) speed:2m/s
Vertical (heave) speed:1m/s
Lateral (sway) speed:0.5m/s
Dive rate w/ descent weight: 200m/min
Range @1.8m/s-no payload: 80km
Range @1.8m/s-100W payload: 60km
Depth rating: 6000m
Reef Explorer II : A ROV/AUV Hybrid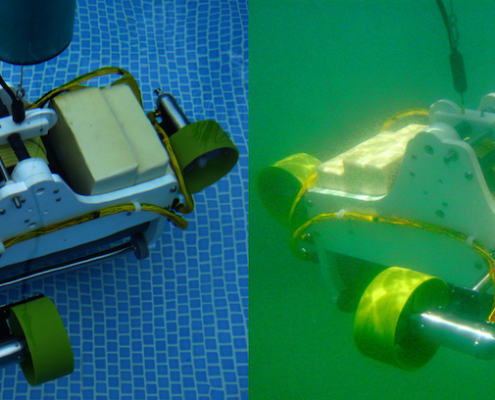 Reef Explorer II (REx II) is an underwater vehicle that provides live video and sensor data to a remote operator. It incorporates the mobility of traditional AUV designs with the live control and feedback of ROVs. An automatically managed tether connects the vehicle to a small surface float with radio communica-tion and GPS. This design, inherited from the preceding Reef Explorer, creates a fast data connection between the vehicle and operator, and gives accurate navigation information. The operator can be near the vehicle, or connect over the Internet.
In spring of 2009, Rex II was sent to Oahu, Hawaii for ocean field tests. It captured many hours of video and images over several missions conducted at reefs, sandbars, harbors, and deep channels. Many different forms of sea life, such as fish, turtles, invertebrates, plants, and corals were recorded.
SPECIFICATIONS
Rex II is well suited to exploration, inspection, and data collection in coastal or inland waters. Top speed is 0.5 m/s, maximum depth is 20 m, and the total weight is 50 kg. It is inexpensive, small, and can be deployed from shore or over the side of a boat. Operation with a joystick can be learned in just a few minutes. Additional payloads may be carried inside a dry housing or externally on the frame. On one battery charge, the vehi-cle can run for eight hours, covering 15 km.
Reef Explorer: A Hovering AUV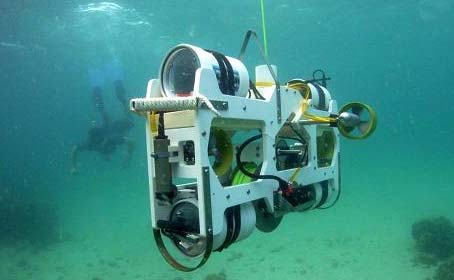 The Reef Explorer is a lightweight, inexpensive hybrid AUV/ROV, tethered to a small surface device that allows for constant communication be-tween the vehicle and its operators. The Reef Explorer, which can be driven remotely via the internet, is particularly well suited to shallow water missions. With a substantial payload volume in spite of its light construc-tion, it is exceptionally easy to deploy and maneuver.
In 2007 the vehicle, equipped with a color camera and a wireless radio link, was deployed in Kaneohe Bay, Oahu, Hawaii to stream data back to class-rooms on shore, allowing students to explore reefs virtually and send sim-ple commands to the vehicle. The Reef Explorer came back to MIT for modification and returned to Hawaii in May 2008 for a second expedition.
SPECIFICATIONS
Small, low cost (~$50k) AUV with two live video feeds (upward and down-ward) over radio link.
This vehicle has a small buoy that relays navigation and com-munication signals.
Hovering capable to within a meter of GPS waypoint.
NEREUS / Odyssey II Class

NEREUS (novel, efficient, rapid evaluation of underwater spec-tra) ) is a self-contained underwater mass-spectrometer system capable of continuous measurements of gases and vapors dissolved in the water column. Rapid in-situ measurement minimizes or eliminates artifacts that are often a problem when collecting and storing samples for analysis of volatile constituents, and provides higher spatial and temporal resolution of chemical patterns than is possible with conventional techniques.
NEREUS is designed to operate either independently on a mooring or winch line, or aboard an autonomous underwater vehicle (AUV), such as the Sea Grant Odyssey class submersible, Kemonaut. Underwater mass spectrometers such as NEREUS have many important applications to practical problems, such as pollution monitoring, as well as to fundamental Earth systems research.
NEREUS, developed by MIT Professor of Civil and Environmental Engineering, Harold Hemond, has been supported by MIT Sea Grant and in cooperation with the MIT Sea Grant AUV Lab.
Katrina Boat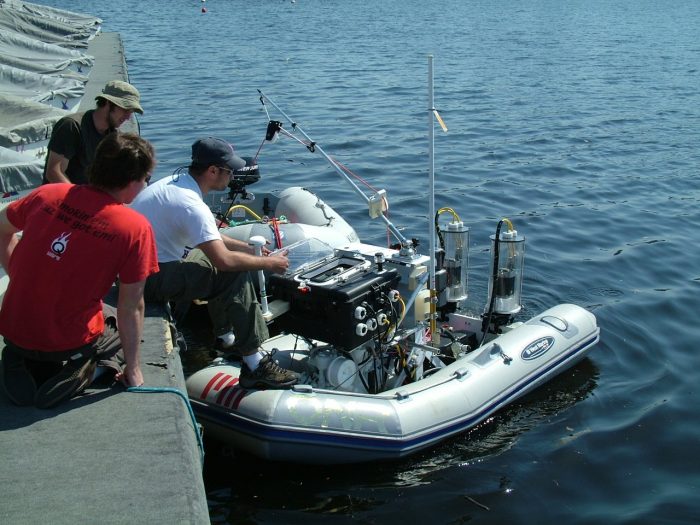 Katrina is "a diesel electric vertical profiling Autonomous Surface Craft" designed to take water quality measurements in lakes, rivers, and calm ocean environments. The boat can either run autonomously, executing mission scripts, or it can be remotely controlled by a human operator.
On an ordinary mission the boat will go to a series of way points and take a vertical profile of water quality measurements using a sensor array on a winched cable. The navigation sensors currently outfitted on the boat are a GPS, compass, 6 axis inertial measurement system, depth sounder, and a paddle wheel speed sensor. A radar and video camera are available for obstacle avoidance.
The Lab has tested Katrina in the Charles River where it handled well at speeds up to 10 knots, in rough water, and with winds gusting up to 30 knots.
Odyssey II
The Odyssey II class of AUV, five of which have been built, is designed to operate at full ocean depth. Less than two meters in length, the vehicle does not require any special handling equipment for launch and recovery. With a component cost of $75,000, the vehicle has the potential for inexpensive mass-production. The sub can be configured in a number of ways, depending on mission requirements. It has an onboard computer which executes navigation and control programs; each new mission profile can be configured, tested and entered into the computer's library. A sophisticated acoustic modem is used for reliable two-way digital communication. A large portion of Odyssey's internal volume is available for mission sensors.
The creation of a second-generation vehicle, Odyssey II, was supported by the ONR. In the spring of 1994, Odyssey II was deployed from an ice camp in the Beaufort Sea to explore Arctic sea ice mechanics.
Odyssey I
This first Odyssey AUV underwent field trials off of New England in 1992 and (deployed from the NSF icebreaker Nathaniel B. Palmer) off of Antarctica in early 1993. The work on Odyssey was supported by the Sea Grant College Program, MIT, the National Science Foundation (NSF), and the National Underwater Research Program.
This 195 kg (430 lbs.), 2.15 m long, 0.59 m diameter AUV is capable of operation at depths of 6,000 m (3.7 miles). When first launched from an oceanographic research vessel in January 1993 in the Antarctic, Odyssey was one-sixth the weight of any other deep-diving vehicle in the world and had twice the range of other vehicles. With component costs of less than $50,000, Odyssey I's price tag was a fraction of that for other deep-diving vehicles.
Sea Squirt
Built in 1988, the 35 kg, 1 m long Sea Squirt was the first of the AUV Lab's vehicles. With component costs of $40,000, it operated inside a long-baseline array, taking measurements of oxygen concentration, turbidity, temperature and salinity in the Charles River, Boston Harbor and various lakes and ponds. The vehicle also served as a test bed for software and instrumentation.
MAILING ADDRESS
MIT Sea Grant College Program
Massachusetts Institute of Technology
77 Massachusetts Avenue, NW98-151
Cambridge, MA 02139