"Digital Ocean" Development through Geospatial Data Visualization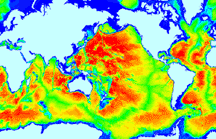 MIT Sea Grant Coastal Resources Program Geospatial Data Analysis and Visualization System Development
MIT Sea Grant is developing the "Digital Ocean", a marine data storage, analysis, and visualization system for use by scientists, resource managers, stakeholders, and the public. By gathering, analyzing and making data widely available, we can help provide essential tools for ensuring the healthy sustainment of our economic and marine resources.
This system supports customizable analysis and visualization tools usable on both desktop computers and mobile devices, accommodates the diversity of data types used in professional scientific work, resource managers, stakeholders, and citizen science, and streamlines the data and analysis export process to facilitate better reports more quickly.
We reviewed the diversity of data sets, operations, and product output required by scientists and the public, including meetings with Nantucket Department of Natural Resources and Boston Harbor Cruises. Based on this review, we utilized high quality open-source web programming frameworks and database environments to maximize functionality and customization, and reduce cost.
The system currently contains ~1 million observations from the Massachusetts marine environment, including data from Nantucket Department of Natural Resources, Massachusetts Water Resources Authority, Boston Harbor Cruises and Department of Marine Fisheries. The system can currently parse 100K+ observations and 500+ locations and generate mobile-friendly analysis plots and maps in less than half a second. Various types of popular export methods are available for all analyses and queries. Maps and interfaces include:
– Water Quality Data Management and Analysis Online System
– Whale Sightings Online Data Visualization and Analysis System
– Marine Debris Online Data Visualization and Analysis System
– River Herring Spawning Habitat Online Mapping Tool
– Charles Chart Online Mapping Tool
Partners: Massachusetts Division of Marine Fisheries (MA DMF); MA Division of Ecological Restoration; EPA Region 1; US Environmental Protection Agency (US EPA); NOAA Fisheries; Northeast Fisheries Science Center (US DOC, NOAA, NMFS, NEFSC); NOAA Restoration Center (US DOC, NOAA, NMFS); Massachusetts Bays National Estuary Program; Massachusetts Bays Program; Town of Plymouth, MA; Town of Eastham; Woods Hole Sea Grant; National Park Service (US DOI, NPS); New England Aquarium; University of New Hampshire (UNH); Ipswich River Watershed Association; Cape Cod Public Schools; Massachusetts Audubon; MIT Media Lab; Waquoit Bay Natural Estuarine Research Reserve, Cape Cod Commission; North and South Rivers Watershed Association; Antioch University New England; New Hampshire Sea Grant; National Marine Fisheries Service (US DOC, NOAA, NMFS); Island Creek Oyster Company; Coonamessett Farms; VEMCO; The Woods Hole Research Center; Woods Hole Oceanographic Institution (WHOI); Marine Biological Laboratory (MBL, WHOI); Oregon RFID; Cornell Lab of Ornithology; Columbia University; University Of Massachusetts At Amherst (Umass); University of Massachusetts at Boston (UMass)
https://seagrant.mit.edu/wp-content/uploads/misc/DigitalOcean.gif
139
216
Lily Keyes
https://seagrant.mit.edu/wp-content/uploads/2023/05/MITSG_logo_website.png
Lily Keyes
2017-01-01 00:00:47
2019-06-18 14:26:02
"Digital Ocean" Development through Geospatial Data Visualization