Posted by OEOP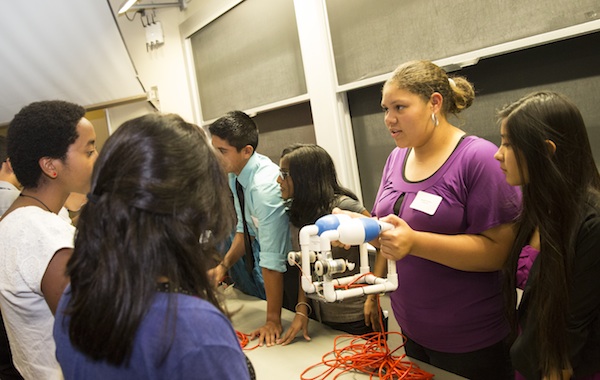 E2@MIT student Nadia Ferrer explains her team's underwater robotics project, which they designed to prevent a simulated oil spill from spreading.
In one week this summer, 13 students studying underwater robotics in the Engineering Experience at MIT (E2@MIT) program designed and constructed remote-operated vehicles (ROVs). On August 9, they headed to MIT's Zesiger Center swimming pool to test their projects.
E2@MIT staff, in collaboration with the MIT Sea Grant Program, offered Underwater Robotics as one of its six courses for the first time this year. The other courses were Architecture, Electronics, Aeronautics and Astronautics, Engineering Design, and Fluid Mechanics. In each course, students learned problem-solving methods in engineering and completed an assignment with a design-related task, practicing turning ideas into completed projects. Outside of coursework, students interacted with admissions and financial aid officers, visited labs, and conversed with MIT faculty and students.
The Underwater Robotics students faced a challenging assignment inspired by a real-world challenge: to create a prototype ROV for British Petroleum. The ROV had to be capable of inspecting the pipes that deliver materials from the seafloor and containing and cleaning oil spills. The group was divided into three teams, each assigned one of three specific tasks: pipe inspection and monitoring, oil containment, and clean up and monitoring.
For the students, building an ROV was a new experience. On Monday and Tuesday, they took a crash course on building simple ROVs in conjunction with the MIT Sea Grant Sea Perch Program. On Wednesday, they learned about computer-aided design (CAD) and principles of buoyancy. After brainstorming and coming up with designs for their various tasks, they spent Friday amidst colorful zip ties, foam floats, batteries and wire, constructing their robots.
Of course, as student Richard Lopez-Sanchez later reflected, "what works in theory doesn't necessarily work in practice." During the day at the pool, the students discovered that designing to meet a challenge also involves confronting unexpected challenges and tweaking plans.
Richard's team was responsible for building the ROV capable of pipe inspection. The team members crouched between two diving boards, considering their ROV: a crab-like construction with two long, white arms each ending in a small rectangular mirror. The body was fitted with a round, black camera and covered with colorful donut-shaped plastic floats. It floated serenely in the water – so serenely that it failed to dip beneath the water, despite Isaiah Udotong's fiddling with the remote controller.
"Let's cut off some of the donuts," Michelle Ng suggested. Richard made the adjustments, and the floats soon make an orange, turquoise, and purple pile on the deck beneath Sofia Blasini's feet.
With the ROV continuing to float, the students tried cutting some of the pink low-density foam attached to the body. As the ROV began to sink, the students yelled with excitement, but began to groan as they realized that had over-adjusted and the ROV hit the pool floor. Course instructor Kathryn Shryover – already in bathing suit and moving between projects – retrieved the ROV. The crew returned to brainstorming ideas.
The process of considering various possibilities, attempting prototypes, and revising ideas also challenged Claire Apuan's team. Her team, the containment group, was in charge of creating ROVs to circle and "hug" the oil spill. "We had about ten different ideas," Claire said. "It was hard to come down to one."
Lessons reached beyond engineering. Olutoyin Demuren of the cleanup team cited the importance of perseverance. "When it's 12:30 and you thought you had a great design, it can be very stressful," she said.
At the end of the week, after four hours of design and over ten hours of construction, the teams' ROVs collected 298,000 barrels of oil (in the form of plastic balls). For many students, the journey was more impressive than the final numbers. "This summer has been the first application of engineering for me," said Nadia Ferrer, who had always thought she would pursue a career in nursing. "I love [engineering]. This is me; they made this profession for me."
— Lena Bae
https://seagrant.mit.edu/wp-content/uploads/2013/10/underwaterrobotics.jpg
380
600
ntmadmin
https://seagrant.mit.edu/wp-content/uploads/2023/05/MITSG_logo_website.png
ntmadmin
2013-10-28 15:24:22
2019-05-08 12:46:00
High school students design and build underwater robots to mitigate a simulated oil spill disaster in the MIT pool.